Cheesy mini meatloaves
Doesn't everything taste better when in miniature form? These super cheesy meatloaves are perfect for the weeknight rush and cook up in no time.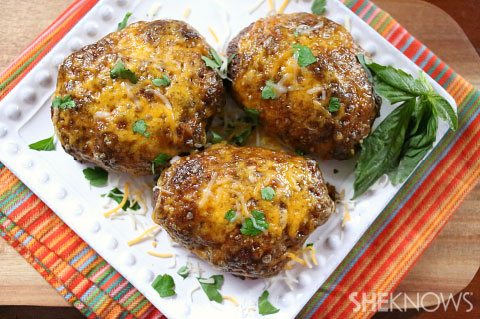 Meatloaf is a classic comfort food. We took all that deliciousness and gave it a cheesy twist. We mixed together ground beef with seasoned breadcrumbs, ketchup, Italian seasoning and lots of delicious shredded cheese. You're going to love this dish!
Cheesy mini meatloaves
Yields 4 servings
Ingredients:
1-1/2 pounds ground beef
1 small onion, diced
1/2 cup shredded cheese
1/2 cup seasoned panko breadcrumbs
1/4 cup ketchup
1/4 cup grated Parmesan cheese
1/4 cup whole milk
1 teaspoon Italian seasoning blend
1/2 teaspoon garlic salt
1 large egg, beaten
4 slices cheddar cheese
Directions:
Preheat oven to 350 degrees F and line a rimmed baking sheet with foil.
In a large bowl, add ground beef, onion, shredded cheese, panko, ketchup, Parmesan cheese, milk, seasoning, garlic salt and egg.
Using your hands, mix it all together and divide into 4 equal loaves.
Add loaves to the prepared baking sheet and bake for about 35 minutes until fully cooked and no longer pink inside.
Place 1 slice cheese onto each loaf and bake for a few minutes longer to melt cheese. Enjoy warm.
More meatloaf recipes
Southwest meatloaf recipe
Lentil & rice no-meat loaf recipe
Meatloaf cupcake recipe