Slow cooker Salisbury steak
Salisbury is a classic suppertime dish. This slow cooker version gives you all the flavor with a lot less work.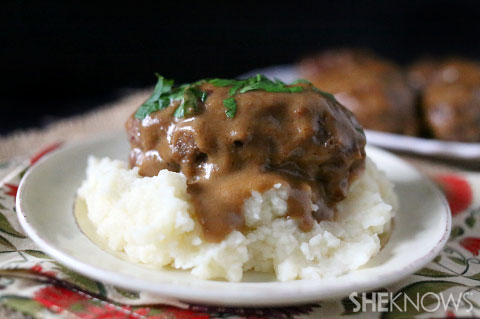 I think most people hear Salisbury steak and automatically think TV dinner. Well, while I might share the same assumption the homemade version is actually delicious and pretty easy to throw together. Plus it's made in the slow cooker so you get the joy of making it in the morning and coming home to a hot meal. I served my Salisbury steak with mashed potatoes but I think buttered noodles would be delicious too.
Slow cooker Salisbury steak
Yields 4 servings
Ingredients:
2 pounds lean ground beef (93/7)
1 (1 ounce) packet beefy French onion soup mix
1/2 cup Italian breadcrumbs
1/4 cup whole milk
1/4 cup flour
2 tablespoons vegetable oil
2 (10.75 ounce) cans cream of mushroom soup
1 (1 ounce) packet beef gravy mix
3/4 cup water
Directions:
In a large bowl, add ground beef, soup mix, breadcrumbs and milk. Mix together with your hands and form 8 equal-sized oval-shaped patties.
Lightly dust the patties in flour until lightly coated.
In a large skillet set over medium heat, add vegetable oil. Once the oil is hot, brown patties in 2 batches. Once patties are browned on all sides move to the slow cooker. Make sure the patties cover the bottom.
In a medium-sized bowl, whisk together soup, gravy mix and water.
Pour mixture over patties and cook on low for 4 hours. Serve with mashed potatoes or buttered noodles.
More slow cooker recipes
Italian pulled chicken sandwich recipe
Slow cooker chicken fajitas recipe
Slow cooker chicken tacos recipe