Vegetable, ham and cheese rice casserole
This vegetable, ham and rice-packed casserole is just what the cold weather ordered. It's stick-to-your-ribs delicious!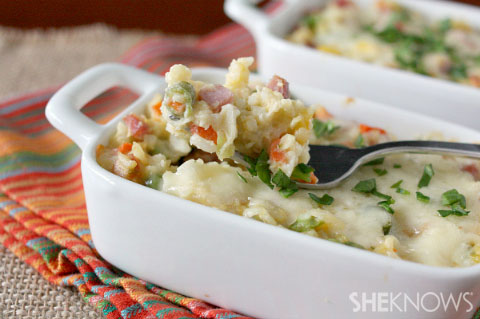 Cooking healthy doesn't have to be hard after the New Year. This tasty dish is packed full of brown rice, vegetables, chopped ham and cheese. I know you are thinking cheese isn't healthy but just wait until you see our super-secret ingredient. We add a special cauliflower sauce that helps give this casserole a creamy texture without using tons of cheese. Don't worry cheese lovers. We did use some cheese.
Vegetable, ham and cheese rice casserole
Slightly adapted from Lauren's Latest
Yields contents of 9 x 9-inch dish
Ingredients:
3 tablespoons olive oil
1/2 medium onion, diced
1-1/2 cups diced mixed vegetables (we used carrots, peas, corn and green beans)
1-1/2 cups diced ham steak
1-1/2 cups cooked instant brown rice
1-1/2-2 cups cauliflower Alfredo sauce
1 cup shredded white cheddar cheese
Directions:
Preheat oven to 350 degrees F and spray a 9 x 9-inch pan with nonstick spray.
In a large skillet, add olive oil and set over medium heat. Once oil is hot, add in onion and mixed vegetables.
Cook until they just start to soften. Add in ham and brown rice, stir to combine.
Pour in 1-1/2 cups of cauliflower sauce and 1/2 cup of shredded cheese. Stir until the cheese is melted and the mixture is thoroughly combined. If the mixture is too dry, add a little more sauce until desired texture is met.
Pour into prepared pan and top with remaining shredded cheese.
Bake for about 20 minutes until the cheese is melted on top and the mixture is hot throughout.
Tip: We used a frozen vegetable mix that we threw into a food processor and lightly processed while frozen. It helped break up the vegetables into small pieces without leaving it too processed. You can also use any leftover vegetables you can find in your fridge. This recipe works perfectly with almost any type of vegetable.
More casserole recipes
Buffalo chicken tater tot casserole recipe
Leftover turkey shepherd's pie casserole recipe
Individual chili topped with cornbread casserole recipe