Migas-stuffed peppers with baked eggs
Migas-stuffed peppers with baked eggs are a breakfast, lunch or dinner staple. Tex-Mex migas are stuffed into fresh peppers and baked for a meal that's unforgettable.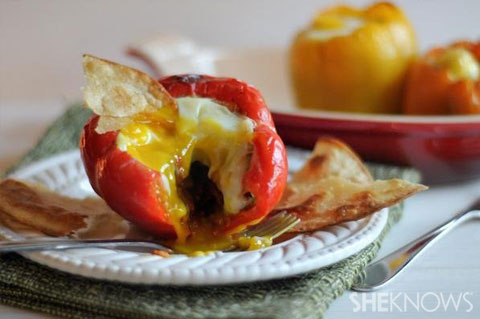 Migas-stuffed peppers with baked eggs
Serves 4
Ingredients:
10 ounces chorizo sausage
1/2 white or yellow onion, chopped
1/2 cup prepared quinoa or rice
6 corn tortillas, chopped
4 bell peppers
4 whole large eggs
Directions:
Preheat oven to 400 degrees F.
Bring a large pot of water up to boil.
While the water is heating, remove the tops and seeds from the peppers.
When the water is boiling, submerge the peppers and boil for 3 to 4 minutes to soften.
Carefully remove the peppers, drain and set them in an 8 x 8-inch baking pan.
Heat a nonstick skillet over medium heat.
When the skillet is hot, add the sausage and onion and cook until the sausage is completely cooked through, about 10 to 12 minutes.
Add the tortillas and quinoa and cook an additional 3 to 4 minutes.
Evenly stuff the prepared peppers with the sausage mixture, leaving about 1/2 an inch all around at the top and place sitting up in the dish.
Very gently crack 1 egg in each pepper, then transfer the peppers to the oven.
Bake at 400 degrees F for 12 to 14 minutes just until the egg whites are set.
Remove from oven and serve hot.
More Tex-Mex recipes that please
Tex-Mex sloppy Joes in the slow cooker
Tex-Mex chicken salad
Tex-Mex mac and cheese