Dinner Shortcuts: Pesto pasta with peas and chicken sausage
This quick pasta dish is packed full of pesto flavor, sweet baby peas and lots of crispy chicken sausage. There is nothing but flavor in this pasta.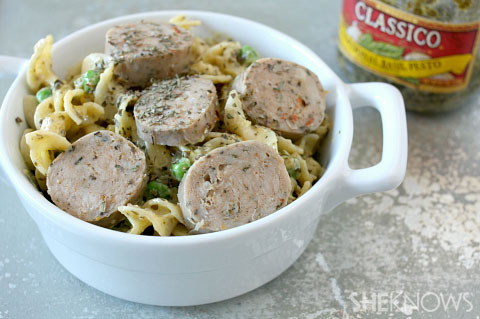 Dinner doesn't have to take all night to prepare. For those days where there just seems to be no time this is the dish for you. Packed full of fresh pasta, sweet baby peas, pesto and chicken sausage. It's filling, flavorful and just as delicious the next day for leftovers.
Pesto pasta with peas and chicken sausage
Yields 4 servings
Ingredients:
1 (12 ounce) bag egg noodles

5 fully cooked chicken sausages
1/2 cup frozen baby peas
8 ounce container store-bought pesto
Parmesan cheese, for topping
Directions:
Fill a large pot with water and add to high heat. Bring to a boil and add noodles. Cook according to bag directions.
In a large saucepan, saute chicken sausage and add in peas and pesto.
Toss in cooked pasta and serve warm. Top with Parmesan cheese if desired.
More Dinner Shortcuts recipes
Greek meatball sliders recipe
Italian sub crescent roll-ups recipe
Chicken and rice casserole recipe