Champagne cookies for New Year's Eve
This New Year's Eve, serve some kid-friendly Champagne glasses — in cookie form! Kids can have fun adding "bubbles" to each Champagne glass in the form of sprinkles.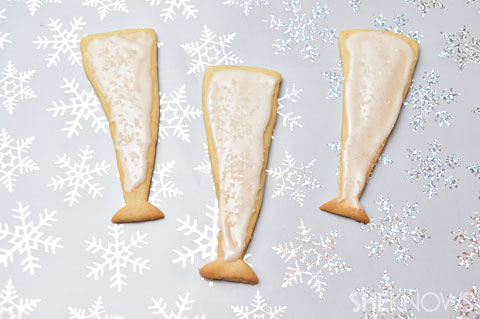 Champagne cookies for New Year's Eve
Makes 2 dozen cookies
Ingredients:
1/2 cup shortening
1 cup granular sugar
1 egg
1 cup sparkling cider
2 cups all-purpose flour
2 teaspoons baking powder
1 (16 ounce) package powdered sugar
3 tablespoons meringue powder
1/3 cup warm water
Food coloring (optional)
Sprinkles (optional)
Directions:
Preheat the oven to 375 degrees F.
In a mixing bowl, combine the shortening, granular sugar and egg until the mixture is thoroughly combined.
Combine flour and baking powder in a small bowl.
Alternate adding cider and flour mixture until a smooth dough forms.
Transfer the dough to a well-floured surface, then roll it out to 1/4-inch thickness.
Use a Champagne glass-shaped cookie cutter to cut out the sugar cookies, then place them on a cookie sheet.
Bake the cookies at 375 degrees F for 10 to 12 minutes until they are lightly browned, then remove them from the oven and allow them to cool.
Prepare the frosting by combining the powdered sugar, meringue powder and warm water. Whisk until smooth.
Add in any food coloring to the frosting, then spread the frosting on the top of the cookies.
Garnish each cookie with sprinkles (if desired) then serve.
More New Year's recipes
3 Bite-size New Year's Eve appetizer recipes
New Year's Day brunch recipes
Kid-friendly New Year's party recipes