Chicken paprikash
Chicken paprikash is a traditional Hungarian dish that your family will love. This is comfort food to enjoy!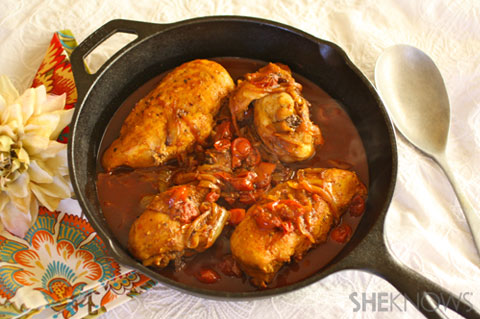 This recipe for chicken paprikash is easy to prepare and serve to your family any night of the week. It has a comforting feel to it, with its seasoned stew and vibrant color. I used bone in-chicken legs and boneless chicken breasts for this recipe, though it's typically made with all bone-in pieces. The stew for this dish develops a rich color thanks to the sweet paprika used.
Chicken paprikash
Serves 4-6
Ingredients:
1/2 teaspoon salt
1/2 teaspoon ground black pepper
2 tablespoons vegetable oil
1 tablespoon butter
2 pounds chicken, half skin-on, bone-in legs, and half boneless, skinless chicken breasts
1 small onion cut into thin strips
3 tablespoons sweet paprika
2 cups chicken broth
1/2 container cherry tomatoes, cut in half
Directions:
Pat the chicken dry with a few paper towels. Season with the salt and the black pepper and set aside.
Add the oil and butter to a skillet over medium-high heat. When hot, add the chicken to the skillet (skin side down) and cook, for about 5 minutes. Flip the chicken and cook for another 3 minutes or so.
Remove the chicken from the skillet and set it aside.
Reduce the heat on the skillet to medium. Add the onion and cook for 6 to 8 minutes, stirring.
Add the paprika to the onions and cook, stirring, for about a minute.
Transfer the chicken back to the skillet and add the broth and tomatoes. Bring the mixture to a boil, then reduce the heat to simmer and cook for 25 to 30 minutes, covered, until the chicken is fully cooked.
Remove from the heat.
Serve on individual plates with your favorite side like mashed potatoes, egg noodles or rice. Pour some of the liquid over each piece of chicken.
More dinnertime recipes
Honey-glazed pork chops
Slow-cooker chicken pot pie
Sun-dried tomato and spinach and feta-stuffed chicken