Dijon-almond crusted chicken
Dijon-almond crusted chicken is the most flavorful and easiest low-carb main dish out there. Enjoy with fresh vegetables or atop a big salad for maximum health!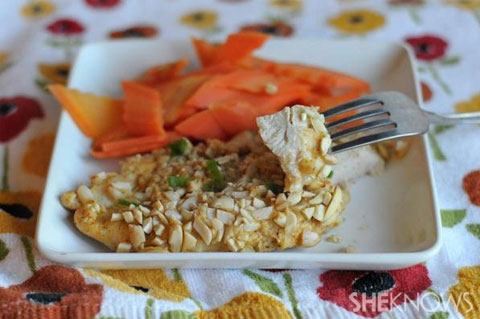 Dijon-almond crusted chicken
Serves 4
Ingredients:
4 boneless, skinless chicken breasts
1/3 cup Greek yogurt
1/4 cup Dijon mustard
2/3 cup chopped slivered almonds
1 teaspoon paprika
Directions:
Preheat oven to 375 degrees F.
Whisk together the yogurt, mustard and paprika until smooth.
Line a baking sheet with foil for easy cleanup.
Dip the chicken breasts into the yogurt mixture to coat on both sides, then press almonds into the top and lay into the prepared pan.
Repeat until all of the chicken has almonds on it.
Bake at 375 degrees F for 20 to 25 minutes until the chicken is cooked all the way through.
Serve hot.
More favorites with Dijon mustard
Creamy Dijon chicken and asparagus
Dijon tilapia cakes
Apricot Dijon chicken