Baked chicken and broccoli casserole
Baked chicken and broccoli casserole is not your ordinary casserole. Bake chicken breasts on top of broccoli florets and a flavorful sauce for a true one-dish meal that will satisfy!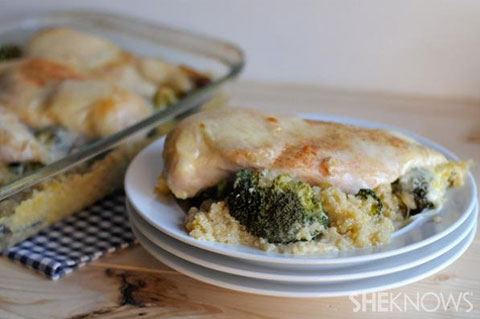 Baked chicken and broccoli casserole
Serves 4
Ingredients:
4 (6 ounce) chicken breasts
2 cups prepared quinoa
4 cups fresh broccoli florets
1 (10.5 ounce) can cream of chicken soup
10.5 ounces chicken stock
Salt and pepper
Directions:
Preheat oven to 375 degrees F.
Spread the quinoa evenly in the bottom of a 9 x 13-inch pan.
Spread the broccoli florets evenly over the quinoa.
Place the chicken on top of the broccoli and season with salt and pepper.
Whisk together the cream of chicken soup and chicken stock.
Pour evenly over the chicken.
Bake at 375 degrees F for 30 to 40 minutes until the chicken is cooked through completely.
Serve hot.
More fabulous chicken casseroles
BBQ chicken casserole
Indian chicken casserole
Chinese chicken casserole