Hasselback apples
Hasselback apples take dessert to a fancy new level. Thinly sliced apples baked with brown sugar and cinnamon are sure to please any palate.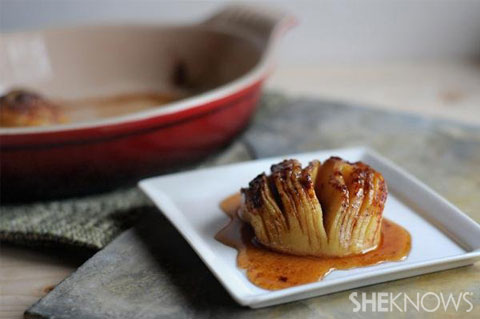 Hasselback apples
Makes 4 servings
Ingredients:
4 Honeycrisp, Pink Lady or Jazz apples
4 tablespoons butter, melted
4 tablespoons brown sugar
1-1/2 teaspoons ground cinnamon
Pinch of salt
Directions:
Preheat oven to 425 degrees F.
Peel the apples, then cut in half lengthwise and scoop out the core, taking care to keep the apple intact.
Place each half cut-side down and carefully slice very thin slices, taking care not to slice all the way through.
Repeat on all the apples.
Place all of the apples in a baking dish and drizzle with butter.
With clean hands, rub the butter all over the apples.
Sprinkle evenly with brown sugar and cinnamon.
Cover with foil and bake at 425 degrees F for 20 minutes.
Remove the foil and bake another 8 to 12 minutes to let the tops get golden.
Remove from the oven and serve immediately, drizzling the pan sauce over the top of each apple.
More Hasselback fun
Marshmallow-stuffed Hasselback sweet potatoes
Cheesy Hasselback potatoes
Hasselback potatoes