Dinner Shortcuts: Chicken noodle casserole
Noodle casserole isn't just for tuna. This time we are switching it up and using canned chicken instead.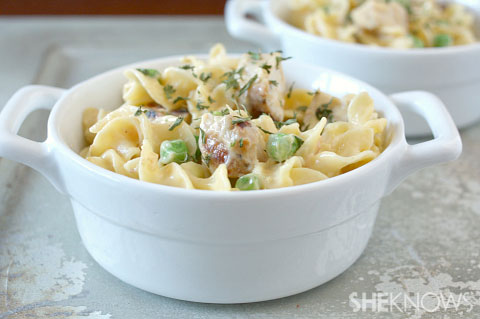 Chicken noodle casserole is just as delicious as its cousin, tuna noodle casserole, but perfect for non-fish eaters. It's creamy, full of protein and packed full of sweet baby peas. This is the perfect weeknight dinner and can be ready in under 30 minutes. You can use canned chicken or chopped leftover chicken.
Chicken noodle casserole
Yields 4-6 servings
Ingredients: 
1 bag egg noodles
2 cans cream of chicken soup
2 cans white meat chicken, drained
2 tablespoons milk
Salt and pepper, to taste
1/3 cup frozen baby peas
Directions:
Fill a large pot with water and bring to a boil over high heat.
Add in pasta and cook until al dente, following bag directions.
Drain pasta and add back to the warm pot. Add in soup, chicken, milk, salt, pepper and frozen peas. Mix until combined.
Add back to low heat to warm the mixture. Serve hot.
More Dinner Shortcuts recipes
Greek meatball sliders recipe
Italian sub crescent roll-ups recipe
Chicken and rice casserole recipe