Honey-glazed pork chops
Having pork chops at dinnertime doesn't mean you have to use the same old recipe. Try this easy option that yields wonderful flavor!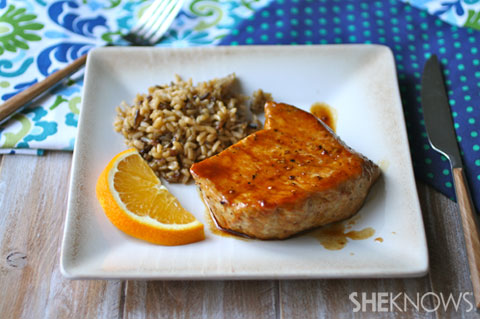 This recipe for honey-glazed pork chops couldn't be easier to make for dinner. You'll find using orange juice and honey in the mix will sweeten things up, but not too much. This is a wonderful main dish option to serve with fresh veggies and a side of rice. It's super simple and delicious!
Honey-glazed pork chops
Serves 2
Ingredients:
2 tablespoons orange juice
1 tablespoon honey
1/2 tablespoon dried rosemary
2 pork chops, 3/4 to 1-inch thick
2 tablespoons vegetable oil
1/2 teaspoon salt
1/2 teaspoon ground black pepper
Directions:
Mix the orange juice, honey and rosemary in a small bowl. Whisk until combined. Set aside.
Trim any excess fat from the pork, then season the chops with the salt and pepper, on both sides.
Preheat the oven to 350 degrees F.
Add the oil to an oven-proof skillet over medium-high heat. When hot, add the pork chops and cook on 1 side until browned (about 2-3 minutes).
Flip the pork chops over and spoon half the orange juice mixture over them. Place them in the oven to cook for 15 to 18 minutes.
Flip the pork chops halfway through cooking and spoon the remaining orange juice mixture over them.
The U.S. Department of Health and Human Services notes a safe minimum internal temperature for pork is 145 degrees F, as measured with a meat thermometer. Allow the meat to rest 3 minutes after cooking, before serving.
More main dish recipes
Sweet baked ham and cheese sandwiches
Slow cooker taco soup
White bean and quinoa chili