Christmas ornament cake pops
Get festive for the holidays with adorable Christmas ornament cake pops. Kids will have a blast decorating each one with frosting and sprinkles!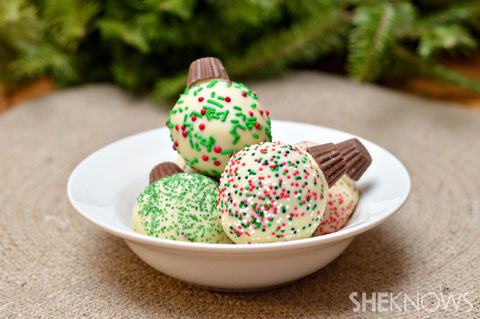 Christmas ornament cake pops
Makes 12 cake pops
Ingredients:
1 box cake mix
3 eggs
1 cup water
1/2 cup oil
1/2 cup prepared frosting
2 boxes Baker's white chocolate
Food coloring (optional)
Lollipop sticks
Sprinkles
Reese's Peanut Butter Cup Miniatures
Directions:
Preheat the oven to 350 degrees F.
In a large bowl, mix together the cake mix, eggs, water and oil.
Transfer the cake batter to a well-greased 9 x 13-inch pan and bake in the oven at 350 degrees F for 20 to 25 minutes, until the cake is lightly golden.
Remove the cake from the oven and allow it to cool.
Transfer chunks of the cake into a large bowl. Add in 1/2 cup of the prepared frosting and knead the cake with your hands until the frosting is completely mixed in.
Roll the cake mixture into 1-inch balls, then put a lollipop stick in each ball.
Lay the cake pops on a sheet of parchment paper and place them in the freezer for 30 minutes until they firm up.
Break the Baker's chocolate into chunks and place the chunks in a microwave-safe coffee mug. Heat the chocolate in 30-second intervals until it is completely melted.
Dip each cake pop in the melted chocolate, then immediately cover the chocolate with sprinkles. Allow the chocolate to harden before laying the cake pop down.
Once the chocolate has hardened, remove the sticks from the cake pops.
Use a toothpick to spread a small amount of melted chocolate to the Reese's Peanut Butter Cup Miniatures, then place the peanut butter cup top-down over the hole in the cake pop.
Keep the cake pops in a cool place until you are ready to serve.
More recipe ideas
Snowman pizza recipe
3 Easy kid-friendly Christmas recipes
Christmas caramel apples