Snowman ice cream sundae
The kids will laugh with delight when they see this fun and festive ice cream sundae. Shaped like a snowman and decorated with chocolate chips, Twizzlers and Reese's Peanut Butter Cups.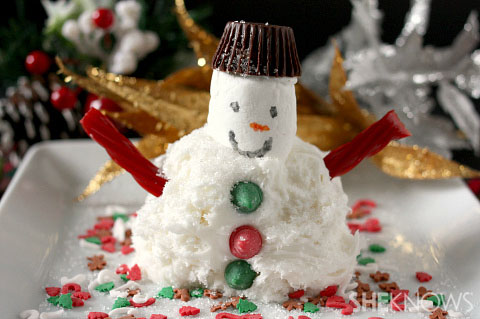 It's time to get fancy with our ice cream! This cute and adorable ice cream sundae isn't your usual hot fudge smothered dessert. The kids will love being able to decorate their own snowman and then they get to devour their delicious treat. Frosty the Snowman has nothing on this festive dessert.
Snowman ice cream sundae
Yields 1 sundae
Ingredients:
1 large scoop vanilla ice cream
1 Twizzlers candy, cut in half
3 colored chocolate chips or M&M's
1 black edible ink marker
1 orange edible ink marker
1 large marshmallow
1 miniature Reese's Peanut Cup
Holiday sprinkles
Directions:
Add large scoop of ice cream to a plate or a small bowl.
Add Twizzlers half to each side of the ice cream ball. This will create the arms of the snowman.
Add chocolate chips to the front of the ice cream ball.
Using your black and orange edible ink markers, draw a face on the large marshmallow.
Add the marshmallow head to the top of the ice cream ball and top the marshmallow with the miniature Reese's cup.
Decorate the plate and snowman with sprinkles if desired.
Tips: Scoop out ice cream before the sundae making and freeze on a large cookie sheet. This will help keep the ice cream balls harder (think less melting) while they are being decorated.
More ice cream recipes
Guinness ice cream float recipe
Frozen banana peanut butter guilt-free ice cream recipe
Boozy red velvet milkshake recipe