Dinner Shortcuts: Chicken cordon bleu casserole
Chicken cordon bleu can be a pain to make from scratch but this time we have given you all the flavor but in casserole form. Hello delicious.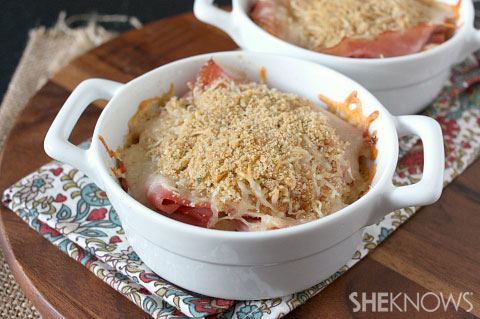 Chicken cordon bleu is a classic dish that is packed full of flavor but can be a pain to make. This simple casserole version gives you all the flavor but a lot less of the work. We used rotisserie chicken and deli ham to make sure things stayed quick and easy.
Chicken cordon bleu casserole
Slightly adapted from Tasty Kitchen
Yields 1 (9 x 13-inch) casserole
Ingredients:
6 cups shredded rotisserie chicken
1/2 pound thinly sliced deli ham, chopped
1/4 pound thinly sliced Swiss cheese
4 tablespoons unsalted butter
4 tablespoons all-purpose flour
3 cups whole milk
2 tablespoons fresh-squeezed lemon juice
1 tablespoon whole grain Dijon mustard
1 teaspoon paprika
1 teaspoon garlic powder
Salt, to taste
Pepper, to taste
1 cup Italian seasoned breadcrumbs
4 tablespoons unsalted butter, melted
Directions:
Preheat oven to 350 degrees F. Spray a 9 x 13-inch casserole dish with nonstick spray, set aside.
Add shredded chicken to the bottom of the prepared casserole dish. Top with ham and Swiss cheese.
In a medium-sized skillet, melt butter and then whisk in flour. The mixture should start to become smooth and start to bubble slightly.
Whisk in milk and bring up to a slight simmer. The sauce should start to thicken and be able to coat the back of a wooden spoon.
Once this happens, whisk in lemon juice, mustard, paprika, garlic powder, salt and pepper. Bring back to a bubble and remove from the heat.
Pour thickened sauce over the chicken, ham and cheese mixture.
In a small bowl, add breadcrumbs and melted butter. Mix together until crumbly.
Sprinkle over the casserole to cover the top of the casserole.
Bake for about 45 minutes until lightly browned on top.
More Dinner Shortcuts recipes
Black bean tostadas recipe
Vegetable chow mein recipe
Creamy tomato tortellini soup recipe