North Pole cupcakes recipe
What do you get when you combine cake, sugar coated frosting and a candy cane? North Pole cupcakes! Santa and his reindeer will love these sweet cupcakes that remind them of home.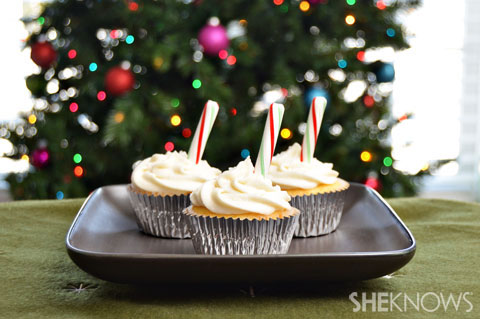 North Pole cupcakes recipe
Makes 24 cupcakes
Ingredients:
2 cups all-purpose flour
2 teaspoons baking powder
1/2 teaspoon salt
3/4 cup sugar
1/2 cup butter, softened
2 eggs
1 cup whole milk
1 teaspoon vanilla extract
For the frosting and toppings:
1/2 cup butter, softened
4 cups powdered sugar
1/3 cup milk
1/2 teaspoon milk
Clear sugar sprinkles
Candy canes
Directions:
Preheat the oven to 375 degrees F.
In a medium bowl, whisk together the flour, baking powder and salt and set it aside.
In a mixing bowl, cream together butter and sugar, then mix in the eggs.
Slowly add in the flour mixture alternating with milk until all ingredients are well combined.
Fill a cupcake pan with individual cupcake liners. Divide the batter among the wells and bake for 18-20 minutes until the tops of the cupcakes are lightly golden.
Remove the cupcakes from the oven and allow them to cool completely.
Once the cupcakes have cooled, prepare the frosting by creaming the butter. Slowly add in the powdered sugar and milk, then mix in the vanilla.
Transfer the frosting to a piping bag and pipe the frosting onto each cupcake.
Top each cupcake with clear sprinkles, then break a candy cane in half and slide it into the top of the cupcake.
More holiday recipes