The best kid-friendly holiday brunch recipes
As glorified foodies, we have to admit, Christmas morning brunch is about as exciting to us as unwrapping the colorful presents under the glistening tree. To get our kids as excited about brunch as we are, we whipped up these amazing recipes filled with kid-friendly ingredients.
From crispy bacon and eggs casserole to a luscious brown butter walnut coffee cake, these amazing brunch recipes will have your kids plowing through their presents just to eat them!
Crispy bacon, crouton and cheese eggs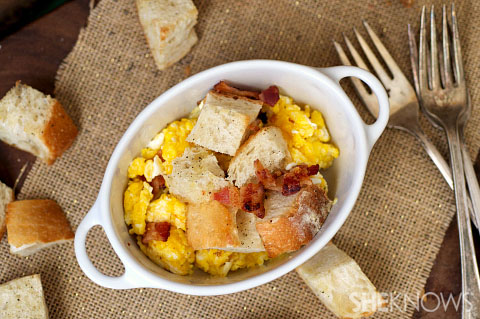 Recipe inspired by Food & Wine
Serves about 4
Ingredients:
10 large eggs, slightly beaten
1/4 cup unsalted butter, melted
1 cup shredded cheddar cheese
4 slices thick French bread, cut into cubes
4 pieces bacon, chopped
Directions: 
Mix the French bread, butter, salt and pepper together. Add a few handfuls of chopped chives into the bowl. Toss to coat.
Spray a nonstick skillet with medium heat. Add the eggs, cheese, chives and basil. Scramble until eggs are fluffy. Remove from the skillet and mix in the bacon.
Garnish the eggs with croutons.
Crock-Pot almond butter & banana muesli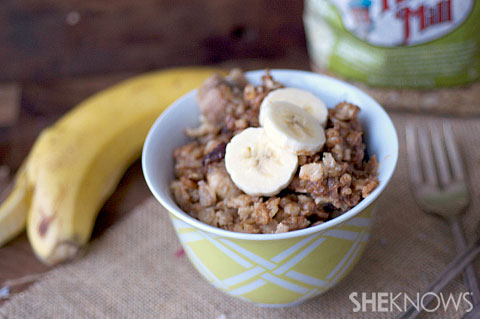 Serves about 4
Ingredients:
1 cup muesli
1 cup milk
1-1/2 cups water
1/2 tablespoon pumpkin pie spice
2-1/2 tablespoons brown sugar
1 banana, mashed
1-1/2 tablespoons almond butter
Directions: 
Liberally coat a Crock-Pot with nonstick cooking spray. Add the muesli, milk, water, pumpkin pie spice, brown sugar, mashed banana and almond butter. Stir to combine.
Heat on low and cook for about 6 hours.
Brown butter pecan crumb cake bars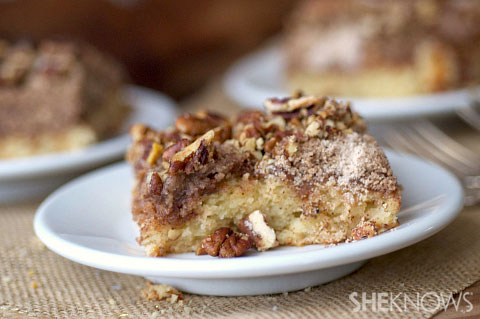 Serves about 8
Ingredients: 
For the cake: 
3/4 cup unsalted butter
2 cups all-purpose flour
1-1/2 teaspoons baking powder
1 teaspoon apple pie spice
1/4 teaspoon baking soda
1/2 cup brown sugar
1/2 cup white sugar
2 large eggs
1 teaspoon vanilla
1/2 cup Greek yogurt
For the topping:
1/2 cup unsalted butter
1/3 cup brown sugar
1 cup whole wheat flour
1 teaspoon cinnamon
Dash of salt
About 1 cup crushed pecans
Directions: 
Preheat oven to 350 degrees F. Grease an 8 x 8-inch cake pan with nonstick cooking spray and set aside.
To make the topping, mix the brown sugar, flour, salt and cinnamon together. Using a pastry knife, cut in the butter until mixture resembles coarse sand.
Place the butter in a large skillet over medium heat. Cook until browned, fragrant and nutty, about 4 minutes. In a large bowl, beat the eggs, sugar, vanilla, Greek yogurt and browned butter until creamy.
Whisk the flour, baking powder, spice and baking soda together. Add the wet mixture to the dry mixture and stir to combine. Pour the mixture into the prepared cake pan.
Top the cake with crumb topping and sprinkle with pecans. Bake for about 45 minutes, or until a toothpick inserted in the middle comes out clean.
More holiday recipes
Holiday wreath cookie recipes
How to make holiday sugar cookies
Gingerbread chocolate chip cookies