Microwave peanut brittle
Peanut brittle is the perfect holiday sweet treat. We made it even easier by coming up with a recipe to make it in the microwave.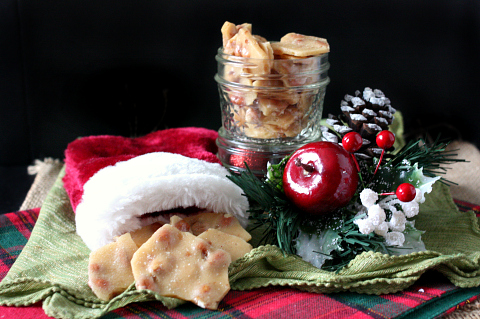 Peanut brittle is one of the easiest candies to make. It's sweet, crunchy and full of delicious peanuts. Well, we took all that ease and made it even easier! This peanut brittle is made in the microwave. Don't run away just yet. In just about 10 minutes you will have perfectly cooked candy and an easy clean up. What more could you ask for?
Microwave peanut brittle
Slightly adapted from AllRecipes
Yields 1-1/2 pounds candy
Ingredients:
1 cup sugar
1/2 cup light corn syrup
1-1/2 cups salted whole peanuts
1 teaspoon unsalted butter
1 teaspoon vanilla extract
1 teaspoon baking soda
Directions:
Line a large rimmed baking sheet with parchment paper or a Silpat, and set aside.
In a large glass bowl, add sugar and corn syrup. Add to the microwave and cook for 4 minutes.
Carefully stir in peanuts and cook for another 3-1/2 minutes.
Carefully stir in unsalted butter and vanilla extract. Cook for another 1-1/2 minutes.
Stir in baking soda until the mixture is slightly foamy.
Pour onto prepared baking sheet and spread mixture evenly.
Let the mixture cool completely and then break into bite-size pieces.
More candy recipes
Irish potato recipe
DIY rock candy recipe
Raw tahini butter chocolate cups recipe