Pot roast soup
Pot roast soup is all the ingredients of the Sunday favorite in a great big steaming bowl. Enjoy with crusty bread for a full-fledged hearty meal!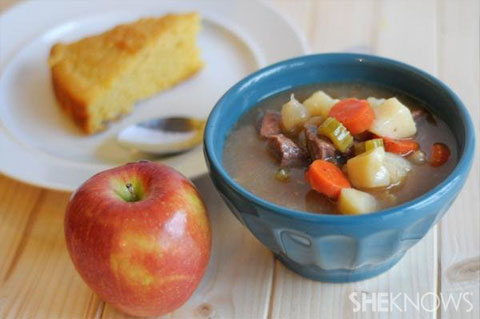 Pot roast soup
Serves 6-8
Ingredients:
2 pounds beef stew meat, trimmed
1 tablespoon olive oil
3 large carrots, chopped
3 stalks celery, chopped
2 large Russet potatoes, peeled and chopped
1-1/2 cups pearl onions, peeled
6 cups beef stock
2 teaspoons dried rosemary, crushed
1 teaspoon dried thyme
2 teaspoons salt
1 teaspoon black pepper
Directions:
Preheat a large soup pot over medium heat.
Add the olive oil and the stew meat and brown the meat for about 5 to 6 minutes.
Add the carrots, celery, stock, rosemary, thyme, salt and pepper.
Bring to a boil, then add the potatoes and return to a boil.
Reduce the heat and simmer for 25 to 30 minutes until the potatoes are soft.
Add the onions and cook for another 5 minutes.
Serve hot.
More comforting soup favorites