White chicken spinach lasagna rollups
White chicken spinach lasagna rollups bring the comfort without any of the guilt thanks to a surprise ingredient. Cauliflower puree amps up the creamy goodness and veggie count for this delicious dish.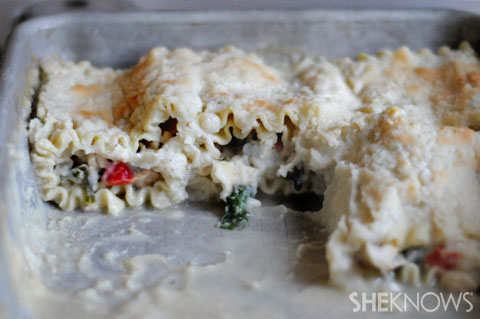 White chicken spinach lasagna rollups
Serves 6
Ingredients:
2 cups chopped cooked chicken breast
3 cups fresh spinach, chopped
1/2 cup chopped roasted red pepper
2 cups cauliflower florets, steamed
2 cups milk
2 tablespoons cornstarch
1/2 cup Parmesan cheese
12 large lasagna noodles
Salt and pepper to taste
Directions:
Boil the noodles according to package directions until al dente; drain and lay the noodles flat on clean towels and cover with clean damp towels.
Whisk together the milk and cornstarch over medium heat, allowing to slowly warm through and thicken. Stir constantly.
While the milk is heating up and thickening, puree the steamed cauliflower.
When the milk mixture is thick enough to coat the back of a spoon, add the cauliflower puree and the Parmesan cheese.
Remove from the heat and stir together until creamy.
In a bowl, mix together the chicken, chopped spinach and red pepper.
Spread 1/2 cup of the milk mixture in the bottom of a 9 x 13-inch pan.
Scoop 1/4 cup of the chicken mixture onto 1 end of a lasagna noodle.
Roll the noodle around the filling all the way up to the end, then place seam side down in the pan.
Repeat for all of the noodles.
Pour the sauce evenly over the top.
Bake at 400 degrees F for 20 to 30 minutes until the top is slightly brown.
Serve hot.
More lasagna roll recipes
Green and red lasagna rolls
Lasagna roll-ups
Quick pesto lasagna rolls