Lemon oregano chicken
Lemon oregano chicken is a simple and elegant way to serve the traditional weeknight chicken dinner.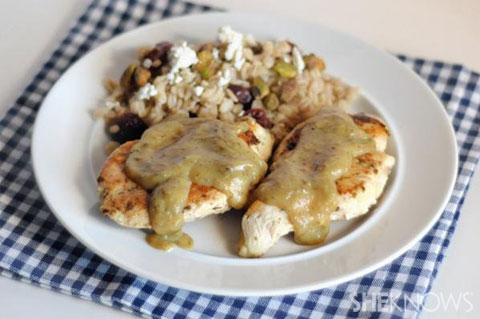 Lemon oregano chicken
Makes 4 chicken breasts
Ingredients:
4 boneless, skinless chicken breasts
Juice and zest from 2 lemons
1/4 cup olive oil
1 cup chicken stock
1 heaping tablespoon oregano
2 cloves garlic, minced
1 teaspoon salt
1/2 teaspoon black pepper
Directions:
Combine all ingredients in a large zip-top bag and seal the bag closed.
Marinate for 2 to 4 hours.
Preheat a skillet over medium heat and lay the chicken breasts in the pan, reserving the marinade.
Sear the chicken on each side, then add the marinade and bring to a simmer.
Cover and cook for about 7 to 10 minutes until the chicken is done.
Serve hot.
More fabulous chicken breast recipes
Easy Cajun spiced chicken breasts
Chicken breasts with raspberry sauce
Cheesy chicken breasts