Steak & vegetable stir-fry
Steak and vegetable stir-fry is deliciously easy and healthful at the same time! Tender steak and fresh veggies served hot over rice is one meal you can feel great about serving to your family.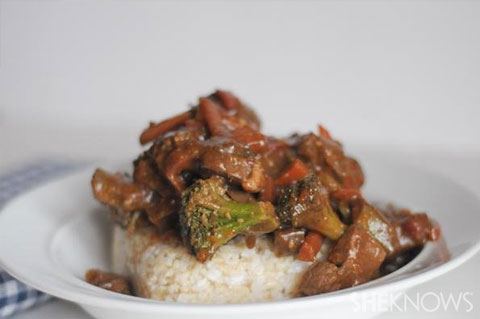 Steak and veggie stir-fry
Makes 4 servings
Ingredients:
1 pound sirloin steak, trimmed and sliced very thinly
2 tablespoons canola oil
1 cup small broccoli florets
1 cup baby carrots, sliced
1 cup mushrooms, cleaned and sliced
1 cup zucchini, sliced
1/3 cup hoisin sauce
1/4 cup beef stock
2 tablespoons soy sauce
1 tablespoon sweet chili sauce
3 cups cooked brown or white rice
Directions:
Heat a large skillet or wok over medium-high heat.
Add the sliced steak in an even layer and flash cook, stirring constantly, until just caramelized on all sides.
Remove the steak from the pan and add the vegetables, cooking for about 5 to 6 minutes until just softened.
Add the steak back in and stir together.
Whisk the hoisin, beef stock, soy sauce and chili sauce together and add to the pan.
Stir to coat and allow to cook for about 2 to 3 minutes.
Serve hot over prepared rice.
More unforgettable stir-fry recipes
Chicken, basil and spinach stir-fry
Orange-ginger tofu stir-fry
Stir-fry noodles with shrimp and vegetables