Rudolph the red-nosed pretzel dog
Looking for a cute holiday appetizer for your kids? Instead of regular pigs in a blanket, make these adorable Rudolph the red-nosed pretzel dogs!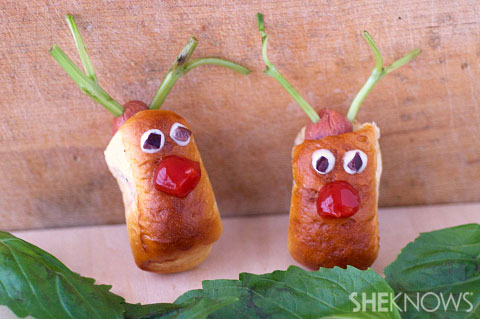 These bite-size little pretzel dogs are fun to make and even more fun to eat. Add a few of these to your kid's lunchbox or to your holiday party for a great app everyone will love.
Rudolph the red-nosed pretzel dogs
Serves about 12
Ingredients: 
12 mini pretzel dogs
Ketchup
Black olives for eyes
Ranch for the eyes
Rosemary for antlers
Directions: 
Preheat oven to 400 degrees F. Grease a standard size baking sheet with nonstick cooking spray.
Place the pretzel dogs on the baking sheet and bake for about 8 to 12 minutes, or until fully cooked.
Once cooled, decorate with black olives (for eyes) and ketchup (for the nose). Using a skewer, carefully stick a few holes into the top of the pretzel dog. Stick a few rosemary branches into the tops for antlers.
More fun holiday snacks
4 Holiday classroom treats
Christmas treats kids can make on their own
Gluten-free holiday desserts