Lavender lemon shortbread cookies
Lavender lemon shortbread cookies make tea time elegant. Crushed lavender and lemon zest make these simple cookies shine!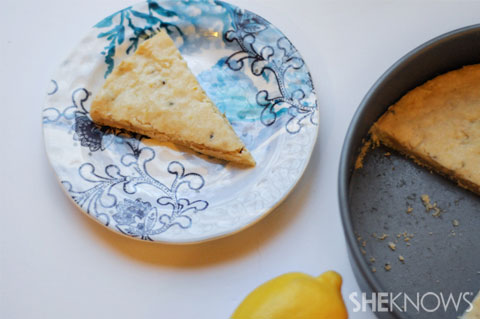 Lavender lemon shortbread cookies
Makes 8 triangle cookies
Ingredients:
1/2 cup unsalted butter, at room temperature
1/2 cup powdered sugar
1 cup all-purpose flour
1/2 teaspoon vanilla extract
Zest from 1 large lemon
1-1/2 teaspoons dried lavender
Directions:
Preheat oven to 300 degrees F.
Cream together the butter and powdered sugar.
Add the lemon zest, vanilla and lavender and mix well.
Add the flour and mix until the dough just starts to come together.
Pour the dough into an 8-inch round cake pan and, using wet fingers, gently press it out to the edges forming an even layer.
Bake at 300 degrees F for 25 to 30 minutes until the edges just start to turn golden brown.
Remove from the oven and cut into wedges while the dough is still hot, then allow to cool completely before removing from the pan.
More elegant shortbread cookies
Oatmeal raisin shortbread cookies
Vegan tea-infused shortbread cookies
Rosemary hazelnut shortbread cookies