3 Holiday-shaped pizzas
Who doesn't love pizza night? Celebrate the holiday season with fun-shaped holiday pizzas, like this cute snowman, Christmas tree and pepperoni candy cane!
Your kids will love these holiday pizzas as much as you love making them! Not only do they make great weeknight meals, they are perfect for kids' holiday parties and girls' night!
Pepperoni candy cane
Yields 2 candy canes
Ingredients:
1 batch homemade pizza dough
Pepperoni
Freshly grated Parmesan cheese
Olive oil
Directions: 
Roll the dough out to about 1/2-inch thickness. Cut the pizza dough into candy cane shapes and place on a greased pizza sheet.
Preheat oven to 400 degrees F. Using the pepperoni and the Parmesan cheese, make stripes on the candy cane.
Bake for about 12 to 14 minutes or until cheese is melted.
Fluffy Christmas tree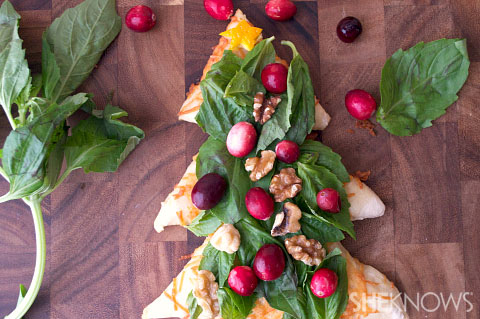 Serves about 8
Ingredients: 
1 homemade pizza dough
About 2 cups fresh basil
1 cup fresh cranberries
1 yellow pepper, cut into a star shape
1/2 cup chopped walnuts
About 1-1/2 cups freshly grated Parmesan
1 cup white pizza sauce
Directions: 
Preheat oven to 400 degrees F. Grease a pizza sheet with nonstick cooking spray.
Using a roller, roll out the dough to about 1/3-inch thickness. Using a pizza cutter or a sharp knife, cut out a Christmas tree.
Top the tree with white pizza dough and cheese. Sprinkle with fresh basil. Decorate with cranberries, walnuts and the yellow pepper star. Garnish with salt and pepper.
Bake for about 14 to 16 minutes, or until melted.
Snowman pizza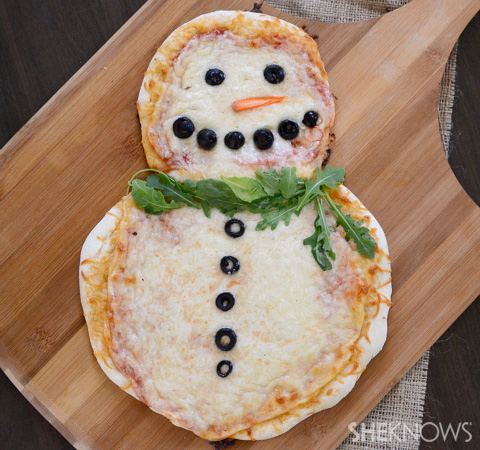 Serves about 6
Ingredients:
1 homemade pizza dough
2 cups shredded mozzarella cheese
1/2 cup marinara or pizza sauce
Black olives
1 small carrot sliver
Arugula for the scarf
Grab the directions for this cute pizza here!>>
More kid-friendly holiday recipes
Holiday rolls and pinwheels
3 Unique waffle maker recipes
Ice cream cone Christmas trees