Cinnamon sugar acorn squash chips
Cinnamon sugar acorn squash chips are thinly sliced squash (include that skin in there too!) coated lightly with cinnamon sugar and baked off to crispy chip perfection.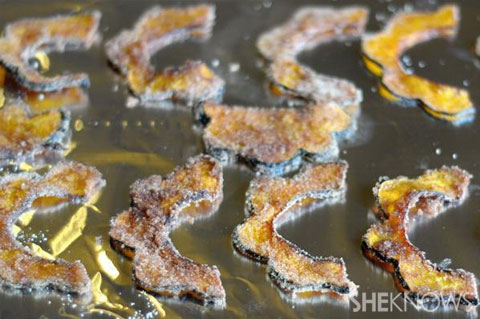 Cinnamon sugar acorn squash chips
Makes 2 servings
Ingredients:
1 medium acorn squash
1/2 cup granulated sugar
1 tablespoon ground cinnamon
Nonstick cooking spray
Directions:
Preheat oven to 425 degrees F.
Line a baking sheet with foil and spray with nonstick spray.
Cut the ends off of the acorn squash, and then cut the squash in half lengthwise.
Scoop out the seeds with a spoon, then slice the squash into very thin half-moon rounds.
Lay the rounds on the baking sheet and spray the top side with nonstick spray.
Stir together the sugar and cinnamon.
One at a time, coat the sprayed rounds with cinnamon sugar and return to the pan.
Bake for 20 minutes, flipping halfway through, until golden and crisp.
Serve immediately.
More magical acorn squash recipes
Nut-stuffed acorn squash
Acorn squash with wild rice
Ricotta-stuffed acorn squash