Mitten muffins
Are your kids fighting breakfast again? Can't seem to get them to eat anything that doesn't come covered in sugar or syrup? Instead of donuts, cereal or pancakes, why not serve them these adorable mitten-shaped muffins?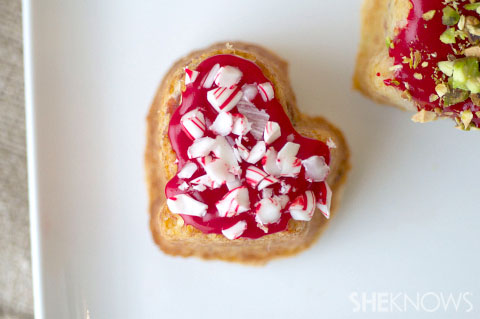 These cute little muffins are easy to make, fun to decorate and are a sure way to get your kids to eat their breakfast. And the best part? No bribery required!
Mitten cranberry orange muffins
Serves about 12
Ingredients: 
2 cups flour
1/2 cup brown sugar
1/4 cup white sugar
1 teaspoon baking powder
1/2 teaspoon baking soda
1 cup dried cranberries
1 egg
1/2 cup orange juice
1/4 cup milk
2 tablespoons unsweetened applesauce
2 tablespoons canola oil
1 tablespoon grated orange
Red and green icing gel
Chopped candy canes
Directions:
Preheat oven to 400 degrees F. Grease a mitten-shaped muffin tin with nonstick cooking spray and set aside.
In a large bowl, whisk the flour, baking soda, baking powder and grated orange together. In another bowl, beat the brown sugar, sugar, egg, applesauce, orange juice and canola oil until creamy. Stir in the dry mixture and mix to combine.
Gently fold in the cranberries. Pour the mixture into the prepared muffin tin, filling about 2/3 the way full.
Bake for about 12 to 15 minutes, or until golden brown.
Let cool. Once cooled, frost with icing and sprinkles.
More holiday-themed recipes
Heart-shaped brownie treasure boxes
Pumpkin-shaped Rice Krispies recipe
10 Crowd-pleasing appetizers