Mac and cheese soup recipe
For a new twist on mac and cheese, try this mac and cheese soup recipe that's perfect for cold winter weather!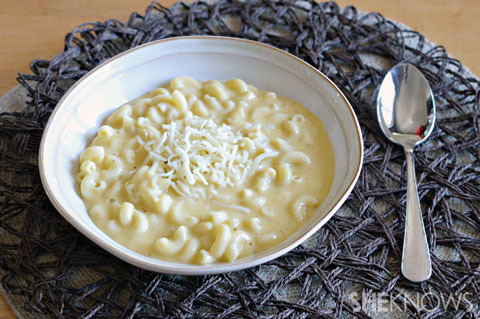 Mac and cheese soup recipe
Serves 4 to 6
Ingredients:
1-1/2 cups macaroni noodles
2 (10 ounce) cans condensed cheddar cheese soup
1 (15 ounce) can chicken or vegetable broth
2-1/2 cups whole milk
2 cups shredded cheddar cheese
1/2 teaspoon ground mustard
1/4 teaspoon black pepper
Directions:
Boil a medium pot of water over high heat. Add macaroni noodles and reduce heat to medium. Cook until noodles are tender, then drain.
In a separate pot, whisk together the cheddar cheese soup and vegetable broth over medium heat until the mixture is creamy.
Add in the whole milk and shredded cheese and stir until cheese is completely melted.
Transfer the cooked macaroni noodles to the soup, then stir in the ground mustard and black pepper and serve.
More easy soup ideas
Black bean nacho soup recipe
How to make lentil soup
Pressure cooker vegetable pasta soup