Dinner Shortcuts: Vegetable chow mein
We kept this delicious chow mein meat free and packed it full of roasted vegetables. It doesn't have to be full of meat to be delicious.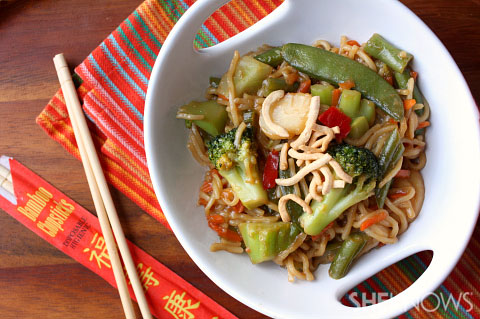 Looking for a filling vegetable dish? This quick and easy vegetable chow mein is full of Asian flavor but takes only 15 minutes to put together. We used a frozen Asian stir-fry vegetable mix to cut down on time but keep it fresh in flavor.
Vegetable chow mein
Yields 2 to 4 servings
Ingredients:
1/2 cup low-sodium soy sauce
2 tablespoons dark brown sugar
2 tablespoons all-purpose flour
2 tablespoons vegetable oil
1 (16 ounce) bag frozen Asian stir-fry mix
2 cloves garlic, minced
1 (9 ounce) package Chinese-style fresh noodles (normally found in produce department)
Directions:
In a glass measuring cup, whisk together the soy sauce, dark brown sugar and flour. Set aside.
In a high sided large skillet, add vegetable oil over medium heat.
Once the oil is warmed add in frozen vegetables and garlic. Saute until the vegetables start to soften.
In a pot, bring water to a boil. Cook noodles according to package directions. Drain and set aside until ready to incorporate.
Pour in soy sauce mixture over the vegetables, stir and let the sauce thicken slightly.
Add in noodles and toss to combine.
Serve immediately.
More Dinner Shortcuts recipes
Loaded tuna wrap recipe
Ranch oyster cracker recipe
One-skillet tuna noodle casserole recipe