Candy cane s'mores
S'mores aren't just for summer. We have taken the classic s'more and given it a candy cane twist.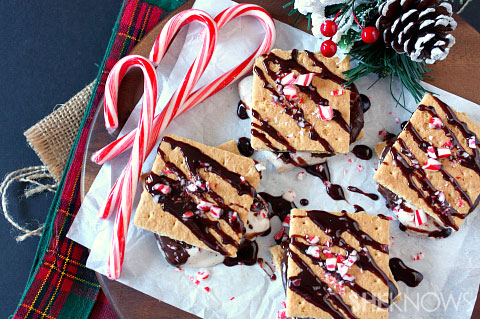 S'mores are no longer just for summer barbecues. These fun and festive marshmallow treats are packed full of peppermint flavor and drizzled with warm melted chocolate. You're going to love digging into these beauties.
Candy cane s'mores
Yields 4 servings
Ingredients:
4 large pieces graham cracker cut in half (8 pieces in total)
4 squares chocolate
4 large mint-flavored marshmallows (can be found in the special holiday baking aisle)
1/4 cup crushed candy canes
Directions:
Lay out 4 pieces of graham cracker onto a parchment-lined baking sheet.
Top each graham piece with chocolate and marshmallow.
Put the s'mores pan under the oven broiler and heat until the marshmallow and chocolate start melting.
Remove from the oven and quickly sprinkle each marshmallow with a little crushed peppermint.
Top each marshmallow with remaining graham pieces.
Melt chocolate in the microwave, stirring every 15 seconds until melted.
Drizzle chocolate over s'mores and sprinkle with more crushed candy canes.
Serve warm.
More s'mores recipes
Boozy s'mores milkshake recipe
Inside out s'mores bars recipe
Grilled banana s'mores recipe