Dinner Shortcuts: Cheesy spinach crescent rolls
Crescent roll-ups are a great way to add flavor to just about any meal. We layered these buttery crescents with lots of cheese and freshly chopped baby spinach.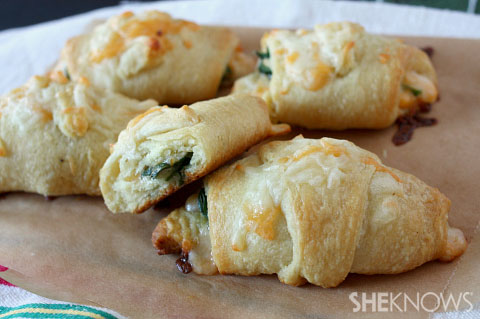 Sometimes there is just no time to make dinner. This quick and easy recipe can be a delicious side or light dinner. These buttery crescent rolls are filled with fresh baby spinach and lots of gooey cheese. You're going to love this take on plain old crescent rolls.
Cheesy spinach crescent rolls
Yields 8 crescent rolls
Ingredients: 
1 package (8 count) refrigerated crescent rolls
1/2 cup shredded mozzarella cheese
1/2 cup fresh baby spinach leaves
Directions:
Preheat oven to 375 degrees F and lay out crescent rolls onto a Silpat-lined baking sheet.
Place a pinch of cheese and a few baby spinach leaves at the large end of each crescent roll.
Tightly roll up and sprinkle with a little cheese on top of each crescent roll.
Bake for about 18 minutes until the cheese is melted and the crescent is fully cooked.
Serve hot.
More Dinner Shortcuts recipes
Loaded tuna wrap recipe
Ranch oyster cracker recipe
One-skillet tuna noodle casserole recipe