Citrus tart with almond crust
Citrus tart with almond crust takes tangy grapefruit-orange citrus curd and puts it perfectly into a nutty delicious crust for a light dessert!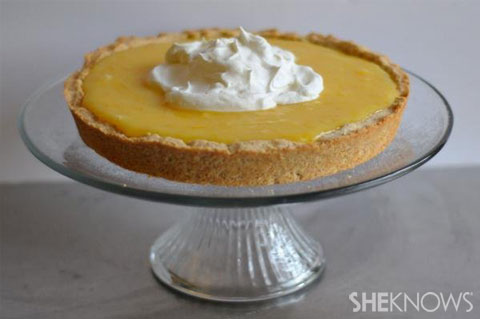 Citrus tart with almond crust
Serves 8-10
Ingredients:
For the crust:
1/2 cup almond flour
1 cup all-purpose flour
1/4 teaspoon salt
1/4 cup brown sugar
4 tablespoons cold butter, cut into cubes
1 whole large egg
For the citrus curd:
1-1/2 cups sugar
Zest from 3 large oranges
Zest from 1 lemon
8 tablespoons butter
1/4 cup orange juice
1/4 cup grapefruit juice
2 tablespoons lemon juice
4 whole large eggs
Directions:
To make the crust, pulse together the almond flour, all-purpose flour, salt and brown sugar in a food processor.
Add the cubed butter and pulse until a fine-grain texture forms.
Add the egg and process until the mixture becomes fairly sticky, but is not a ball of dough.
Preheat oven to 350 degrees F.
Press the dough into a tart pan or a nonstick 9-inch cake or pie pan, being sure to press evenly up the sides.
Bake for 15 to 20 minutes, until golden brown.
Let the crust cool completely.
To make the curd, place a heavy-bottom pot over medium-low heat.
Whisk together the sugar, zests and butter until a creamy consistency.
Add the juice and eggs and whisk until completely combined.
Stirring constantly, cook the curd over medium-low heat for about 15 to 20 minutes until the mixture becomes very thick.
Remove from heat, pour the curd into a non-reactive bowl, and press plastic wrap on top.
Refrigerate until completely cooled or overnight.
When ready to serve, pour the cooled curd into the prepared crust.
Top with whipped cream if desired.
More sweet or savory tart recipes
Butternut squash tart with sage and Parmesan cheese
Gluten-free lemon tart
Cranberry walnut tart