Mashed potato muffins
Mashed potato muffins make it easy to portion those spuds perfectly for every member of the family! Mashed potatoes are mixed with delicious cheese, bacon and chives, then baked in muffin cups for the perfect size.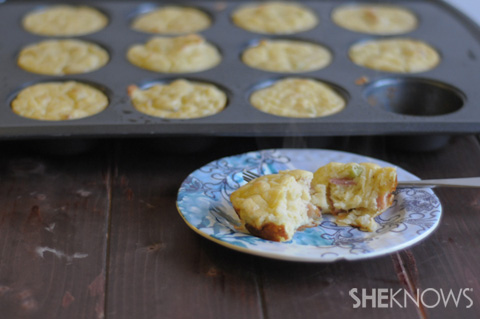 Mashed potato muffins
Makes 12 muffins
Ingredients:
2 large russet potatoes, peeled and cubed
4 slices bacon, crisped
3 green onions, whites and light green parts only, chopped
4 tablespoons butter
1/2 cup 2 percent milk
1 egg
1 cup shredded sharp cheddar cheese
Salt and pepper to taste
Directions:
Place the cubed potatoes in a large pot and cover with water.
Bring the potatoes to a boil, then reduce the heat and boil for about 15 minutes until very soft.
While the potatoes are boiling, chop the bacon and green onions.
When the potatoes are done, drain and return to the hot pot.
Mash the potatoes with the butter and milk, then fold in the bacon, green onions and cheddar until the cheddar is melted.
Check the potatoes for seasoning and add salt and pepper to taste.
Place about 1/2 cup of the potatoes into a small bowl and quickly whisk in the egg to temper.
Pour the egg mixture into the rest of the potatoes and stir to combine.
Preheat oven to 350 degrees F.
Brush a muffin tin with oil or spray with nonstick spray, then evenly scoop the potato mixture into the muffin cups.
Bake for 20 to 25 minutes until the top and sides start to get golden brown.
Let cool for about 5 minutes before serving.
Serve hot.
More fantastic mashed potato recipes
Spicy bacon mashed potatoes
Buttermilk, bleu cheese and bacon mashed potatoes
Three cheese mashed potatoes