Chipotle turkey shepherd's pie
Chipotle turkey shepherd's pie puts a fun and spicy Southwest spin on this comfort classic. Top it with sweet potatoes for a nutritious meal!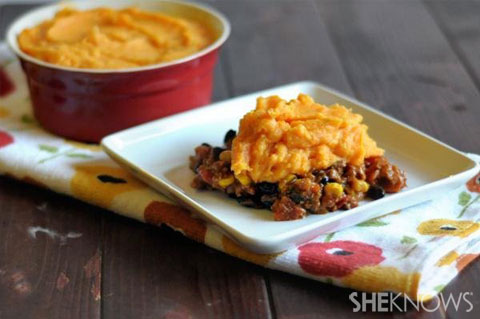 Chipotle turkey shepherd's pie
Serves 6-8
Ingredients:
1 pound ground turkey
1 (15 ounce) can black beans, rinsed and drained
1 (15 ounce) can corn, rinsed and drained
1 (10 ounce) can Rotel, undrained
2 tablespoons tomato paste
2 cups chicken stock
1 tablespoon chipotle chili powder
1 teaspoon cumin
1 teaspoon paprika
Salt and pepper to taste
3 large sweet potatoes
8 ounces Greek yogurt
4 tablespoons butter
Directions:
Peel and dice the sweet potatoes into 1-inch pieces.

Place the potatoes in a large stock pot and cover with water.
Bring to a boil and then reduce the heat and simmer, rapidly, for about 15 minutes until very soft.
While the potatoes are boiling, heat a large pan over medium heat.
Add the turkey to the pan and brown for about 5 minutes, stirring constantly.
Add the black beans, Rotel, tomato paste, chicken stock, chipotle chili powder, cumin, paprika, salt and pepper.
Bring to a simmer and cook on low for about 15 minutes, stirring every few minutes.
When the potatoes are very soft, drain them and then return to the hot pot and mash with the Greek yogurt and butter.
When the turkey mixture still has about 3 minutes left, add the corn to heat through.
Pour the turkey mixture into the bottom of a 9 x 13-inch pan.
Spread evenly with the sweet potato mixture.
Serve hot.
More cozy shepherd's pie recipes
Vegetarian shepherd's pie
Seafood shepherd's pie
Chicken shepherd's pie