Peppermint mocha truffles
Peppermint mocha truffles take all of the flavors of the classic holiday drink and put them in creamy chocolate dessert form.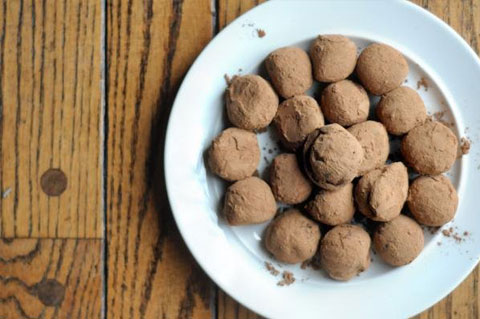 Peppermint mocha truffles
Makes about 24 truffles
Ingredients:
10 ounces 60 percent cocoa chocolate, chopped
1/2 cup heavy cream
3/4 teaspoon peppermint extract
1 tablespoon instant coffee powder
1/2 cup cocoa powder
Directions:
Combine the chocolate, peppermint extract and coffee powder in a large bowl and set aside.
Heat the cream in a heavy-bottomed saucepan until it starts to almost simmer, stirring constantly the entire time.
Once the cream is hot, pour it over the chocolate and allow to sit for about 2 minutes.
Grab a whisk and whisk until the mixture is very smooth.
Cover with plastic wrap and refrigerate for about 3 hours.
Scoop the batter out with a cookie scoop and roll gently into balls.
Place on a baking sheet lined with parchment paper or foil.
Refrigerate for about 30 minutes, then remove the balls from the refrigerator and roll in the cocoa powder.
Keep refrigerated until about 30 minutes before ready to serve.
More decadent chocolate truffle recipes
Chocolate avocado truffles
Red wine chocolate truffles
Chocolate-date truffles with coconut and almonds