Homemade peppermint eggnog
As much as adults love their eggnog (more often spiked), kids aren't huge fans of this holiday drink. That was until the creation of this one. This minty, pink and beautiful drink is the perfect Christmas mocktail for kids and adults.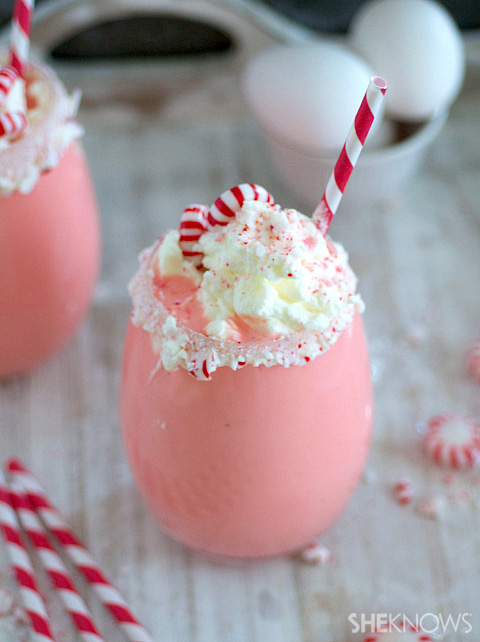 The crunchy peppermint rim adds a beautiful sparkle to every glass and adds the right amount of crunch to every sip. Pair these nogs will a few of these chocolate peppermint cookies for a great Christmas treat!
Homemade peppermint eggnog
Slightly adapted from Martha Stewart
Yields about 2-1/2 cups
Ingredients:
3 eggs
1 egg yolk
1/4 cup white sugar
1/4 teaspoon peppermint extract
1/2 tablespoon vanilla
2 cups whole milk or cream
8 pieces peppermint candy
About 2 ounces white chocolate
Red food dye
1/4 cup whipped cream
Directions:
Set up an ice water bath and set aside.
In a saucepan, whisk the eggs, egg yolk, sugar, peppermint and vanilla extracts using a whisk. Pour the milk in, slowly, and whisk constantly over medium heat. Cook, constantly whisking, for about 20 to 25 minutes or until the mixture coats the back of a spoon.
Place the mixture in another bowl and set immediately over the ice bath. Whisk while you do this to ensure the mixture doesn't congeal or thicken too much. Mix in red food dye to get a pretty pink color.
Place your peppermint candies in a food processor and pulse until ground.
Melt the chocolate and place in a shallow bowl. Dip your glasses in white chocolate. Then dip the white chocolate in the crushed candies until you get a rim.
Pour the eggnog into the glasses and garnish with whipped cream and peppermint candies.
More peppermint holiday desserts
Peppermint stick frozen yogurt
Peppermint chocolate truffles
Chocolate peppermint martini with a crushed candy cane rim