Green chile taco soup
Green chile taco soup is the perfect 30-minute meal. Freeze and reheat for endless meal options down the road too!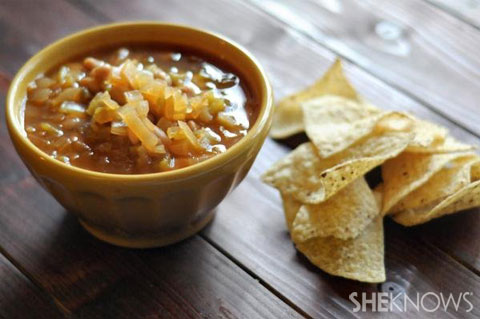 Green chile taco soup
Serves 6-8
Ingredients:
2 tablespoons olive oil
1 white onion, chopped
3 cloves garlic, minced
4 boneless, skinless chicken breasts, cubed
1 (8 ounce) can chopped green chiles
2 tablespoons taco seasoning
2 quarts chicken stock
Salt and pepper to taste
Chips, cheese, sour cream, salsa, etc. to garnish
Directions:
Heat a large skillet over medium heat.
Add the olive oil, onion and garlic and cook for about 5 to 6 minutes until translucent.
Add the cubed chicken and cook for another 5 minutes.
Add the green chiles, taco seasoning and chicken stock.
Bring the mixture to a boil, then reduce and simmer for about 15 to 20 minutes, checking for seasoning once the chicken is cooked through.
Season with salt and pepper as desired.
Serve hot with desired garnishes.
More fun green chile recipes
Green chile burgers with chili-lime mayo
Green chile chicken enchiladas
Rigatoni pasta with Bolognese green chile chorizo sauce