Slow cooker chicken pot pie
Slow cooker chicken pot pie takes the comfort food classic and makes it even easier in a hands-off version.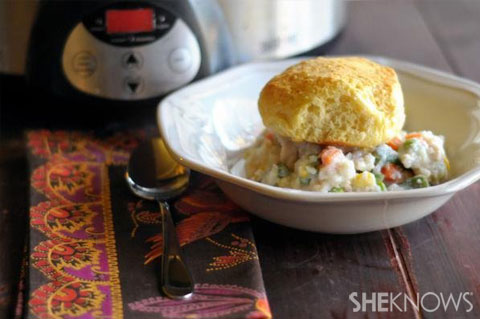 Slow cooker chicken pot pie
Serves 4 to 6
Ingredients:
3 large chicken breasts
2 cups chicken stock
1/4 cup milk
2 tablespoons cornstarch
16 ounces mixed frozen vegetables
1 (16.3 ounce) can prepared biscuit dough
Directions:
Add the chicken and chicken stock to a slow cooker and cook on low for 5 to 6 hours until the chicken easily shreds with a fork.
Whisk together the milk and cornstarch and add to the pot and stir.
Cook on low for another 1 to 2 hours until the mixture is thick and creamy.
Add the frozen vegetables and stir to combine.
Cook for another 30 minutes.
Meanwhile cook the biscuits according to package directions.
To serve, spoon the chicken mixture into bowls and top with a biscuit.
Serve hot.
More comforting Crock-Pot classics
Crock-Pot corn stuffing balls
Crock-Pot chicken and dumplings
Crock-Pot beef stew