Blueberry almond biscotti
Blueberry almond biscotti utilizes dried blueberries for a summery treat in the dead of winter. Serve with coffee or tea for a sweet snack!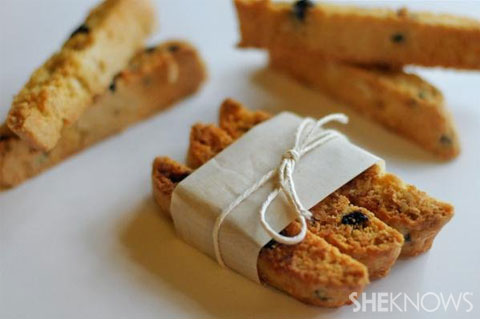 Blueberry almond biscotti
Makes about 30 biscotti cookies
Ingredients:
1/2 cup butter, softened
2 whole eggs
1 teaspoon vanilla extract
2 cups all-purpose flour, plus 1 tablespoon
1 teaspoon baking soda
1/4 teaspoon salt
1/2 cup whole dried blueberries
2/3 cup sliced almonds
2-3 tablespoons whole milk
Directions:
Preheat oven to 300 degrees F.
Line a large baking sheet with parchment paper.
In a large bowl, cream together the butter and sugar until light and fluffy.
Add the eggs and vanilla. Mix until well combined.
Sift in the 2 cups of flour, baking soda and salt. Mix until the dry ingredients are almost incorporated.
Toss the dried blueberries and almonds with the remaining tablespoon of flour.
Fold in the blueberries and almonds until all ingredients are completely combined.
Divide the dough in half and roll/press each half into a long log, about 1 inch thick, 3 inches wide and 13 inches long.
Bake for 30 minutes, then remove from the oven for about 5 to 7 minutes to cool slightly.
Gently remove each log from the baking sheet and slice into 1-inch slices.
Place the slices cut side down on the same baking sheet and repeat with the other log.
Increase the heat to 375 degrees F and bake for another 10 to 15 minutes until the biscotti are dried and golden brown.
Remove from the oven and allow to cool on a cooling rack until completely room temperature.
Can be stored for about a week in an airtight container.
More creative biscotti recipes
Cinnamon cranberry biscotti
Cherry almond biscotti
Almond saffron biscotti