Modern Mom: Keeping kids entertained while you cook Thanksgiving dinner
Cooking for a large crowd is uber-stressful. Now, throw a few kids in the mix! Here are some practical ways to keep the kids entertained while you cook.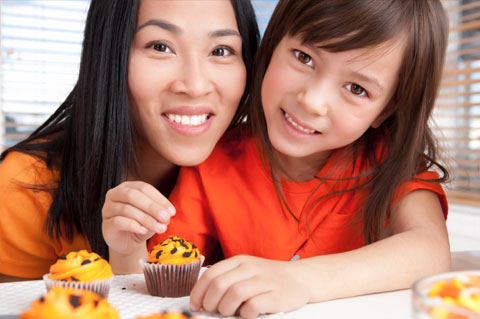 In a perfect world, kids would not only stay out of your way while cooking Thanksgiving dinner, they'd offer to pitch in to help, too. Ahhh, wouldn't that be nice?! Let's be realistic — though. Kids and cooking just don't really mix. Sure, they can be helpful, but sometimes that causes more stress than it's worth. We're looking at some fun ways to keep the kids entertained this Thanksgiving — allowing you plenty of time to get everything done!
Give them their own "cooking" drawer
This activity is perfect for toddlers and preschoolers. Empty out a drawer in your kitchen (or fill up a box if you prefer they not hang out close by while you're trying to cook) and fill it with Tupperware, empty pasta boxes, utensils, straws and anything else you can think of. As a mother of an 18-month-old, I know first-hand that this activity would keep her occupied for at least an hour.
Make Thanksgiving crafts
If the weather permits, set up a craft table outside to keep the kids busy all morning. Keep the crafts simple so the kids aren't constantly asking you questions. A few ideas include:
Tip: Write out instructions for the crafts the night before and set everything up. We suggest having two to three different crafts available. Ideally, they will do them all!
Turn on a movie
Some kids love television, others don't. If you happen to have kids that enjoy watching television, turn on a Thanksgiving-inspired movie for them to watch. Our favorite is A Charlie Brown Thanksgiving. Other ideas include Winnie the Pooh — Seasons of Giving, Miracle on 34th Street and Alvin and the Chipmunks — Alvin's Thanksgiving Celebration.
Put Dad on duty
If Dad's helping cook, this won't work, but if he's planning on watching football all day, you've hit the jackpot! Tell your husband he's in charge of the kids while you prepare Thanksgiving dinner. Suggest he take them to the park to tire them out, chase each other around in the backyard, play games or help with a project. So long as they're not in the kitchen, you're good!
Hire a sitter
If Dad's busy, see if any other family member would be willing to keep an eye on the kids for you. If not, you could always hire someone to take the kids off your hands for a few hours in the morning. This may not be ideal, but you have to do what you have to do!
Final tip: Be as prepared as possible. Bake pies the night before and cook as many dishes as you can in advance. Set the table the day before, as well. The more you get done ahead of time, the less likely you'll be to get stressed.
More Modern Mom
Modern Mom: Teaching kids table manners
Modern Mom: Should kids go vegan?
Modern Mom: How often is fast food OK?