Cream cheese pumpkin pecan cinnamon rolls
Calories don't count during the holidays, right? At least that's what we tell ourselves when we make and devour decadent treats like these pumpkin cream cheese sticky buns. Your family will love them as much as we do!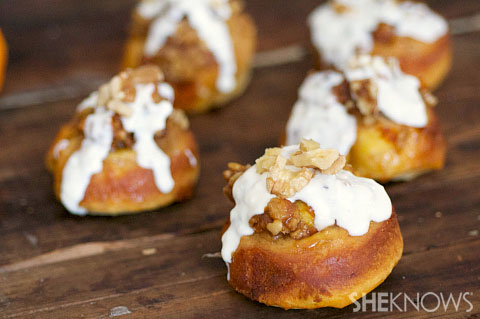 Not only are these perfect for Thanksgiving or Christmas morning, but they're a breeze to make too! We used store-bought biscuits to make these a quicker and easier snack for all busy moms.
Cream cheese pumpkin pecan cinnamon rolls
Yields about 8 sticky buns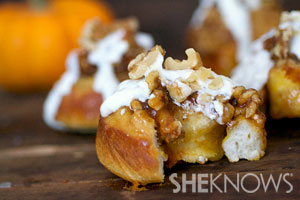 Ingredients: 
For the rolls: 
1 (8 ounce) container refrigerated biscuits
6 tablespoons butter
6 tablespoons brown sugar
About 5 tablespoons pumpkin puree
1/4 cup chopped pecans
For the glaze: 
4 ounces cream cheese
1 cup powdered sugar
1/4 cup unsalted butter
1/2 teaspoon vanilla extract
Directions: 
Preheat oven to 375 degrees F. Grease a muffin tin with nonstick cooking spray.
Mix the butter, brown sugar and pecans together in a bowl. Roll the biscuit dough out to about 1/4 inch thickness. Spread the pumpkin puree over the top of it. Roll the dough up into a jelly roll and cut with a serrated knife into 8 slices.
Scoop the pecan mixture into the bottoms of the muffin tin. Place the slices over the pecan mixture. Bake for about 9 to 12 minutes or until golden brown. Let cool slightly. Then carefully scoop the rolls out of the muffin tin. If some of the pecan mixture is still in the muffin cavities, scoop out and pour on top of the rolls.
Meanwhile, make the glaze by beating the cream cheese, sugar, butter and vanilla. Drizzle each sticky bun with cream cheese glaze while still warm.
More sticky bun recipes