Skillet zucchini pancake with eggs
Skillet zucchini pancake with eggs is simply delicious and full of vegetable goodness. Seared zucchini is topped with perfectly fried eggs and served piping hot for any meal.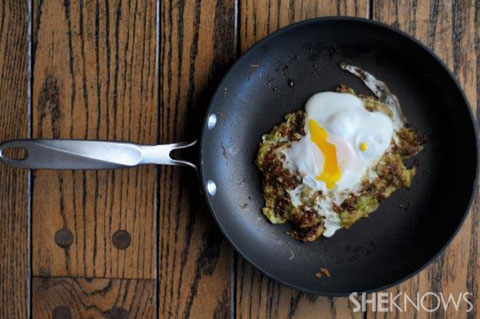 Skillet zucchini pancake with eggs
Serves 1
Ingredients:
1 medium zucchini, grated on a box grater
1 tablespoon flour
1/4 teaspoon salt
1/4 teaspoon pepper
1/4 teaspoon paprika
2 tablespoons butter
1 whole egg
Directions:
Preheat a small skillet over medium heat.
Add the butter and allow to melt while heating.
In a bowl, toss together the zucchini, flour, salt, pepper and paprika until completely combined.
When the skillet is hot and the butter is melted, spoon the zucchini mixture into the hot butter and gently press into an even layer.
Allow to cook for about 5 minutes until golden brown.
Carefully flip the pancake over using a sturdy spatula.
Using a spoon gently make a small hole in the middle of the pancake.
Crack the egg into the hole and cover the skillet with a lid.
Cook until the egg is done to the desired consistency.
Serve hot.
More surprisingly creative zucchini dishes
Zucchini "spaghetti" with easy marinara sauce
Raw zucchini noodles with creamy avocado sauce
Devilish chocolate zucchini cake