Holiday panzanella
Holiday panzanella is a delicious salad chockfull of chopped turkey, cranberries, green beans and crusty cornbread croutons!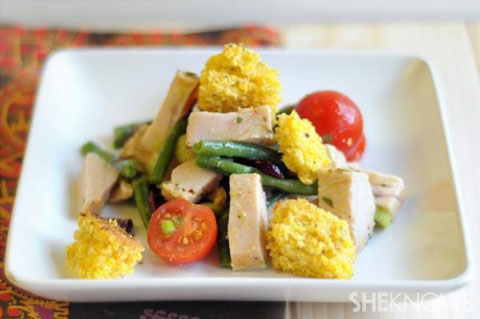 Holiday panzanella
Serves 4
Ingredients:
12 ounces cooked turkey meat, chopped
2 cups cherry tomatoes, halved
1 cup lightly steamed green beans, chopped
1/3 cup dried cranberries
3 cups cubed baked cornbread
1/4 cup butter, melted
2 tablespoons white wine vinegar
1/4 cup olive oil
1 teaspoon Dijon mustard
1 teaspoon dried tarragon
Salt and pepper to taste
Directions:
Preheat oven to 300 degrees F.
Toss the cubed cornbread and melted butter together gently, and spread the cubes into an even layer on a baking sheet.
Bake at 300 degrees F for 20 to 30 minutes, stirring carefully about halfway through, until crisp and golden. Allow to cool.
For the salad, toss together the chopped turkey meat, cherry tomatoes, green beans and cranberries.
For the dressing, whisk together the white wine vinegar, olive oil, mustard and tarragon. Season with salt and pepper as desired.
To assemble everything, add the dressing to the chopped turkey and vegetables, then add the cornbread and lightly toss.
Serve warm or cold.
More exciting panzanella recipes
Sweet summer fruit panzanella
Marinated panzanella salad with homemade croutons
Sourdough panzanella with chicken