Linguine with roasted garlic and red pepper butter
Linguine with roasted garlic and red pepper butter is simple and delicious. Al dente pasta is tossed with a delicious blend of roasted garlic and red peppers — truly an everyday pasta.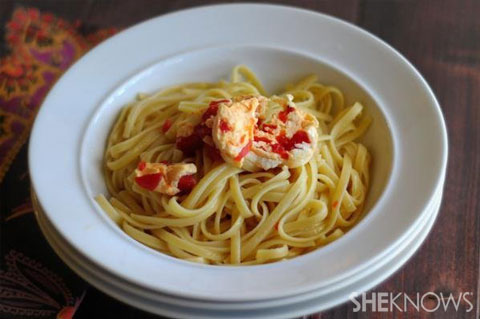 Linguine with roasted garlic and red pepper butter
Serves 4 to 6
Ingredients:
1 pound linguine pasta
2 tablespoons salt
8 tablespoons butter, softened
1 bulb garlic
1 tablespoon olive oil
2/3 cup chopped roasted red peppers
Directions:
Cut the top half of the bulb of garlic off using a serrated knife so that all of the cloves are exposed.
Rub the olive oil on the exposed cloves, and wrap the entire bulb loosely in foil.
Place the foil packet on a baking sheet and place in a cold oven.
Turn the oven on to 300 degrees F and set the timer for 30 minutes.
When the 30 minutes are up, remove the baking sheet from the oven and allow to rest until it is cool enough to handle.
Squeeze the garlic cloves out onto a cutting board and chop roughly.
In a bowl, cream the butter until it is no longer lumpy.
Fold in the chopped garlic and chopped red peppers. The mixture will be very chunky, which is what you want.
Place the butter into the middle of a 12-inch piece of plastic wrap.
Roll gently into a log about the size of a stick of butter, twist the ends and refrigerate until completely hardened, about 2 hours.
To make the pasta, cook the pasta in a large pot of water seasoned with the 2 tablespoons of salt until al dente, about 9 to 10 minutes.
Drain the pasta.
Add the compound butter, starting with half of it and working up to the desired amount, and toss with the hot pasta.
Serve hot.
More yummy compound butter recipes
Blue cheese and chive butter
Lemon dill butter
Vegan compound butter