Hand-shaped turkey cookies
Remember those adorable hand print turkeys you'd make when you were a kid? The ones your mom would hang on the fridge because they were so cute? Turn those fond memories of your childhood Thanksgivings into a delicious dessert with these cookies!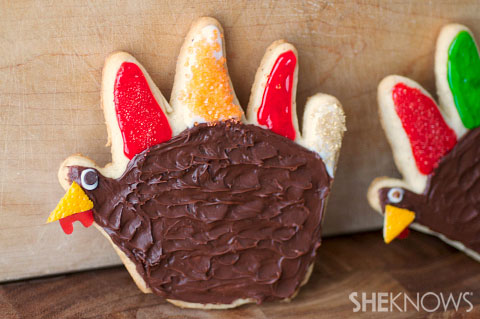 These cute little cookies are made with a hand print cookie cutter, but you can definitely use the (clean) hands of your kids to make them even more personalized. To add some more personality to these cookies, we used edible glitter to give their feathers some pizzazz. These make great desserts for those kids who hate pie!
Hand-shaped turkey cookies
Yields about 12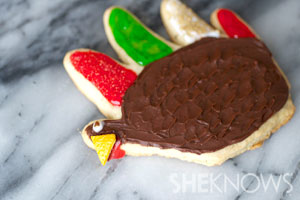 Ingredients: 
5 tablespoons soft butter
3/4 cup white sugar
1 egg
1 teaspoon vanilla extract (you can also use almond)
1-2/3 cups flour
1 teaspoon baking powder
1/4 teaspoon salt
Chocolate frosting
Red, yellow and white icing gel
Colored sprinkles
Mini chocolate chips
Red Fruit Roll-Ups
Directions: 
In a medium bowl, cream butter and sugar. Add egg and vanilla, mixing well. In another bowl, carefully whisk together flour, baking powder and salt. Add flour mixture to the creamed butter mixture, 1 cup at a time, mixing in between additions. *Dough will be crumbly, but it'll harden up.
Form a dough ball with dough and wrap tightly in plastic wrap or wax paper. Place in refrigerator and chill overnight.
Once dough has chilled, preheat oven to 350 degrees F. Line a cookie sheet in foil and liberally spray with cooking spray. Then, on a lightly floured surface, roll out dough to about a 1/4-inch thickness. Lightly flour the edges of a hand print cookie cutter and cut out shapes. Re-roll dough scraps and repeat until all dough is used.
Bake cookies for about 10 to 12 minutes, or until golden brown. Place on a wire cooling rack and cool before you frost.
Once cooled, frost the base of the hand and the thumb with brown frosting. Using a small spatula, make downward indents to give the appearance of feathers. Using your colored frosting or gels, paint the other fingers bright colors. Top with glitter or sprinkles.
Using the white icing gel, place a small dot on the top of the thumb. Use a mini chocolate chip for the pupil. Using scissors, cut out the wattle, or the extra skin that hangs below the turkey's neck. Repeat until all cookies are frosted.
More holiday cookie recipes
Low-fat snowflake cookie recipe
Edible gift tag cookies
Chocolate peppermint cookies