Chorizo potato breakfast burritos
Chorizo and potato breakfast burritos bring the heat to start the day off right! Spicy chorizo sausage is browned with hash brown potatoes and then rolled in a super-soft flour tortilla for a delightful breakfast treat!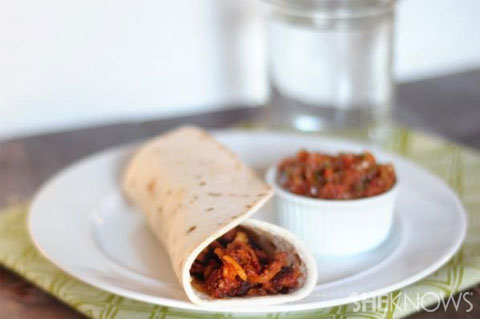 Chorizo potato breakfast burritos
Makes 4 burritos
Ingredients:
10 ounces Mexican chorizo
1 cup shredded raw hash browns
4 (10-inch) flour tortillas
Directions:
Heat a large skillet over medium heat for about 4 to 5 minutes until very hot.
Add the chorizo and brown, breaking up the sausage with a wooden spoon.
When the sausage is cooked about halfway through, add the potatoes and mix into the sausage.
Allow the mixture to cook over medium heat for about 7 minutes, then stir.
Repeat 2 more times or until the potatoes are cooked through and the sausage is done.
Heat the flour tortillas and spoon 1/4 of the sausage mixture into the tortilla.
Wrap and serve hot.
More delectable breakfast burrito recipes
Tofu and black bean breakfast burritos
Breakfast burritos with sage sausage
Make-and-freeze breakfast burritos