Cinnamon maple scones
Cinnamon maple scones bring the fall and winter coziness in a BIG way! Start the day off with a perfectly flaky, spicy and sweet breakfast pastry and it can only be good!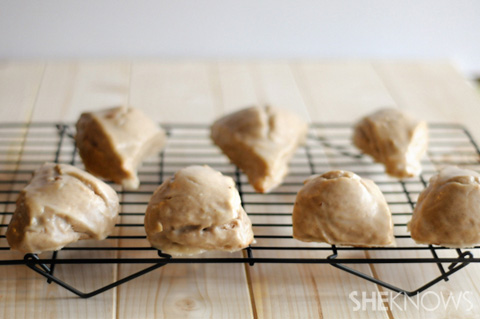 Cinnamon maple scones
Makes 8 scones
Ingredients:
1 stick butter, very cold and cut into cubes
1/2 cup milk
1/2 teaspoon maple extract
2 cups flour
2 tablespoons sugar
2 teaspoons baking powder
2 teaspoons cinnamon
3/4 teaspoon salt
2 tablespoons maple syrup
2 cups powdered sugar
1-2 tablespoons milk
Directions:
Preheat oven to 425 degrees F.
Line a baking sheet with parchment paper and set aside.
In a food processor combine the flour, sugar, baking powder, cinnamon and salt and pulse to combine.
Add the cubed butter and pulse until the mixture resembles coarse sand, about 6 to 8 pulses.
In a large bowl, whisk together the milk and maple extract.
Fold in the dry ingredients and butter mixture until just combined.
Sprinkle flour on a clean surface and gently press the mixture into an 8-inch circle.
Slice into 8 pieces, like a pizza, and place the pieces on the prepared baking pan.
Bake for 15 to 20 minutes until the scones are golden brown and have risen.
Remove from the oven and allow to cool completely before dipping in the glaze.
To make the glaze, whisk together the maple syrup and powdered sugar. If it is not thin enough, add 1 tablespoon of milk at a time until a thin consistency is reached.
When the scones are completely cooled, dip them in the glaze mixture.
Allow to dry at room temperature for about 20 minutes, or just eat immediately.
More perfect scone recipes
Strawberry lemonade scones
Pizza scones with dipping sauce
Pumpkin orange scones