Modern Mom: Healthiest Thanksgiving foods for kids
We know what we like to eat on Thanksgiving, but what about our kids? Check out these healthy dishes the kids are certain to devour!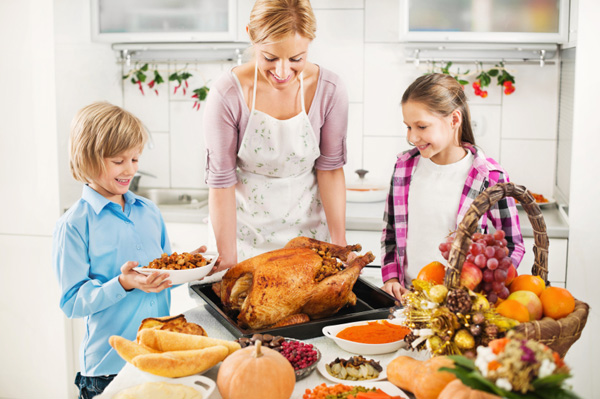 Growing up, I distinctly remember what I ate on Thanksgiving, and that's because it wasn't much. I'd load my plate with stuffing, eat maybe one slice of turkey, possibly eat some mashed potatoes or candied sweet potatoes, and then eat a minimum of three slices of pie. I'd go to bed feeling not only full, but sick. Prevent this from happening to your child with our guide to the healthiest — and best tasting — Thanksgiving foods for kids!
The turkey
Packed with protein (a whopping 14 grams per 3 ounces) and low in calories (90 per 3 ounces), turkey is just plain good for both kids and adults. To help your kids enjoy it as much as you do, you can cut it into small pieces and add to mashed potatoes, slice it up and put some cranberry sauce on top or chop it up and mix with their favorite fruits — such as apples, grapes or pears.
The sides
Millions of kids make the mistake of filling their plates with stuffing and skipping the healthier, tastier sides the Thanksgiving dinner table has to offer. Though kids tend to choose items loaded with carbs — such as casseroles, mac 'n' cheese and muffins — it's important to steer them in the right direction in choosing healthier foods. Help them make a colorful plate full of fresh veggies (think carrot sticks or celery), potatoes (mashed and sweet; go light on the gravy), fruit salads and a dinner roll. Dinner rolls are lower in calories than stuffing and will help fill your child up.
The beverages
Adults get to indulge in wine and cocktails, but what about the kids? Unfortunately, kid-friendly drinks are usually loaded with unnecessary sugars and calories. We recommend having your kids stick to water throughout the day and a glass of milk with dinner or dessert. If you do want them to have a 'special' drink, make an Italian soda — club soda or sparkling water, flavored syrup (try sugar-free) and a splash of half-and-half.
The dessert
This is going to be the trickiest part of your day. Kids and junk food go together like cheese and macaroni, or football and beer. Keeping them away from each other is nearly impossible, but alas, we have a few tips to share. First, make sure your child ate a substantial dinner. If they didn't eat a good portion at dinner, then they don't get dessert, plain and simple (a rule I strongly enforce). Second, choose wisely. For example, pumpkin pie doesn't have as much fat or as many calories as pecan pie. Also use a light whipped cream (or nothing at all) instead of ice cream. And third, cut small slices. With most kids, their eyes are much bigger than their stomachs and one small slice should suffice.
More Modern Mom
Modern Mom: How often can kids work out?
Modern Mom: Proper weight loss methods for kids
Modern Mom: How often is fast food OK?