Decadent Mexican hot chocolate chip cookies
These delicious cookies are moist with a brownie-like texture plus an added spice from spices like ground cinnamon, ancho chili and cayenne pepper. These cookies can be stored in an airtight container for up to three days but of course, they're best eaten on the day they're baked. Perfect for the chocaholics out there!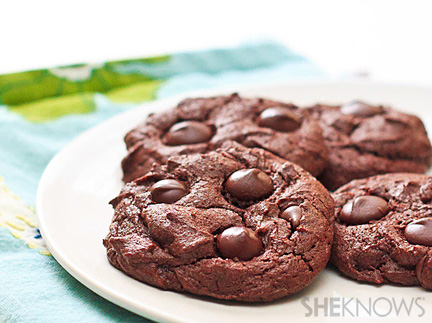 We love these cookies pretty spicy but feel free to adjust the amount of cayenne pepper to your personal spice level. Serve the cookies with a tall glass of cold milk.
Decadent Mexican hot chocolate chip cookies
Yields about 2 dozen cookies
Ingredients:
3 ounces unsalted butter
3 ounces unsweetened chocolate, coarsely chopped
1 cup packed light brown sugar
1/4 cup sugar
2 teaspoons vanilla extract
2 eggs
3/4 cup flour
1/2 cup unsweetened cocoa powder
3/4 tablespoon cinnamon
1/2 teaspoon ancho chili powder
1/2 teaspoon baking soda
1/2 teaspoon salt
1/4 teaspoon cayenne pepper, or to taste
1/2 cup chocolate chips
Directions:
Preheat oven to 325 degrees F. With a microwave, melt butter and unsweetened chocolate in a microwave-safe bowl on low and stir on and off until smooth. Cool the mixture to room temperature.
In a bowl, mix together brown sugar, sugar, vanilla and eggs until smooth. Stir in the melted chocolate mixture. In another bowl sift flour, cocoa powder, cinnamon, ancho chili, baking soda, salt and cayenne pepper. Add dry ingredients to the wet batter and mix until well combined. Fold in chocolate chips.
On a parchment-lined sheet pan, drop dough into heaping tablespoon-sized balls. Leave about 2 inches in between each cookie. Bake for 13 to 15 minutes. Place the cookies on cooling rack for about 10 minutes.
More cookie recipes
Vegan mint chocolate chip cookies recipe
Healthy gluten-free breakfast cookies recipes
Homemade breakfast cookies recipes