Baked pear breakfast casserole
Baked pear casserole is the perfect warm-you-up breakfast for crisp fall mornings.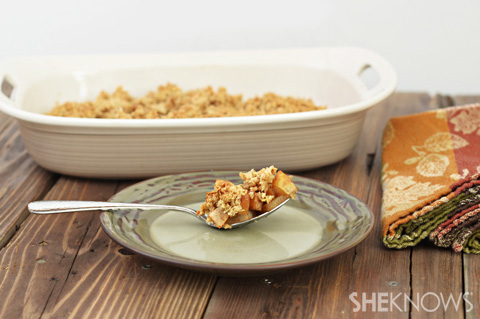 It's hard to get moving on those chilly fall mornings. Fill your home with the aroma of baked pear and start your day off right with this warm and delicious baked pear breakfast casserole.
Baked pear breakfast casserole recipe
Serves 6-8
Ingredients:
4 large pears, chopped
2 tablespoons maple syrup
2 tablespoons brown sugar
1 teaspoon ground cinnamon
1 teaspoon vanilla
Dash of nutmeg
1/2 cup butter, melted
1 cup oats
2 tablespoons white sugar
Directions:
Preheat the oven to 350 degrees F.
In a medium bowl, toss together the chopped pears, maple syrup, brown sugar, cinnamon, nutmeg and vanilla.
Coat a 9 x 13-inch pan with nonstick cooking spray.
Transfer the pear mixture to the pan and spread it evenly across the pan.
In a separate bowl, combine melted butter, oats and white sugar.
Sprinkle the oat mixture on top of the pears.
Bake the casserole in the oven at 350 degrees F for 25 to 30 minutes until the pears are tender and the oats are lightly browned.
More breakfast ideas
Cinnamon sugar pumpkin English muffins
Spiced applesauce donut muffins
Oatmeal cookie pancakes